We know you love quartz. It's a surface that's not only beautiful and practical, but also very easy to maintain. Engineered quartz surfaces, such as Caesarstone, are the perfect combination of nature and technology. And while it is exceptionally easy to care for, there are some definite no-nos when it comes to cleaning.
Desert Limestone countertop and island; photo via Caesarstone
Caesarstone fuses science and technology with 93-percent natural quartz. This high-tech combination means a surface that's non-porous, heat resistant up to 300-degrees Fahrenheit, and scratch resistant. It's highly stain resistant and requires no wax or sealant. Quartz surfacing is ideal for virtually any interior application, including countertops, floors, and even walls—especially the bathroom or other damp areas that might harbor mold and bacteria.
Piatra Gray Caesarstone; photo via Caesarstone
But, strong as it is, even Caesarstone can be damaged by strong chemicals and cleaners. Resist the temptation to use abrasive products on your quartz surfaces. Highly aggressive cleaning agents, such as oven cleaners, Soft Scrub, Comet, SOS, paint remover, silver cleaners and abrasive or harsh scrub pads can permanently damage quartz surfaces. Never clean your Caesarstone surface with products that contain Trichlorethane or Methylene chloride, such as paint remover or strippers. If abrasive household cleaners or other non-recommended do accidentally come into contact with your quartz surfaces, rinse it thoroughly with clean water.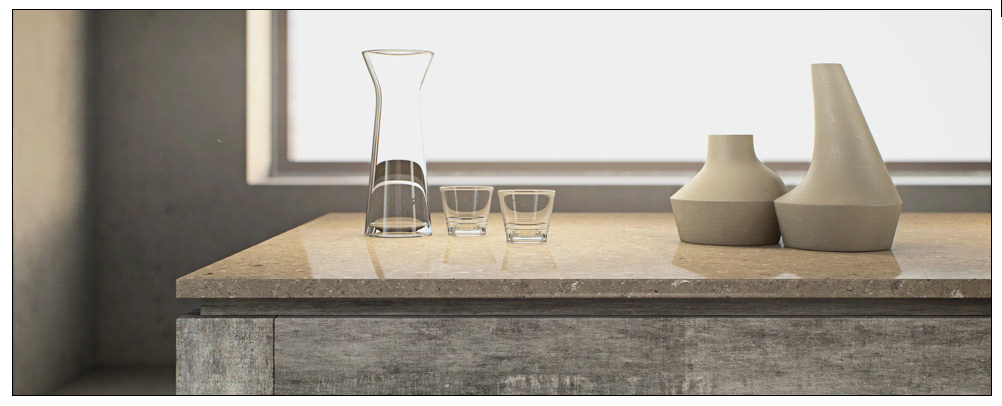 Shitake by Caesarstone; photo via Caesarstone
It's also important to note that products containing oils or powders may leave a residue on quartz surfaces and should be thoroughly rinsed.
Of course, life will happen on your quartz surface. You're bound to have spills and stains. But most of the time these will effortlessly clean up with soap and water. If your quartz countertop happens to become the unfortunate recipient of spilled nail polish, dried paint, exceptionally sticky food or even chewing gum, first scrape away any excess material with a plastic putty knife; next, use a damp cloth to remove any residual material. For extra stubborn stains, use Soft Scrub Gel with Bleach and no-scratch Scotch-Brite pad.
Maharaja Caesarstone vanity; photo via Caesarstone
Marble and Granite, Inc. can help keep your Caesarstone surfaces looking as great as the day they were installed. In the unlikely event you have an unruly stain or problem and you're just not sure what to do, feel free to contact us or visit our showrooms in person.